近日,长江大学园艺学院在《Molecular Horticulture》杂志发表了《Multiomics analysis provides new insights into the regulatory mechanism of carotenoid biosynthesis in yellow peach peel》,文献中实验采用了LUYOR-3280RB荧光手电筒观察GFP在烟草叶片上的瞬时表达。
文献摘要如下:
Carotenoids, as natural tetraterpenes, play a pivotal role in the yellow coloration of peaches and contribute to human dietary health. Despite a relatively clear understanding of the carotenoid biosynthesis pathway, the regulatory mechanism of miRNAs involved in carotenoid synthesis in yellow peaches remain poorly elucidated. This study investigated a total of 14 carotenoids and 40 xanthophyll lipids, including six differentially accumulated carotenoids: violaxanthin, neoxanthin, lutein, zeaxanthin, cryptoxanthin, and (E/Z)-phytoene. An integrated analysis of RNA-seq, miRNA-seq and degradome sequencing revealed that miRNAs could modulate structural genes such as PSY2, CRTISO, ZDS1, CHYB, VDE, ZEP, NCED1, NCED3 and the transcription factors NAC, ARF, WRKY, MYB, and bZIP, thereby participating in carotenoid biosynthesis and metabolism. The authenticity of miRNAs and target gene was corroborated through quantitative real-time PCR. Moreover, through weighted gene coexpression network analysis and a phylogenetic evolutionary study, coexpressed genes and MYB transcription factors potentially implicated in carotenoid synthesis were identified. The results of transient expression experiments indicated that mdm-miR858 inhibited the expression of PpMYB9 through targeted cleavage. Building upon these findings, a regulatory network governing miRNA-mediated carotenoid synthesis was proposed. In summary, this study comprehensively identified miRNAs engaged in carotenoid biosynthesis and their putative target genes, thus enhancing the understanding of carotenoid accumulation and regulatory mechanism in yellow peach peel and expanding the gene regulatory network of carotenoid synthesis.
Transient coexpression assay
The precursor stem-loop sequence of mdm-mi858 (pre-mdm-miR858) was inserted into the pICH86988 plasmid containing the CaMV 35S promoter by Golden Gate cloning. The PpMYB9 target site (MYB9TS) was co-inserted with GFP between the BsaI sites in pICH86988 to form a fusion protein. Agrobacterium tumefaciens containing pre-mdm-miR858 and MYB9TS was resuspended in suspension (10 mM MES, 10 mM MgCl2, and 150 μM acetosyringone), mixed, and then injected into N. benthamiana leaves. The infested tobacco was incubated at 24 °C under 16-h light/8-h darkness, and after 3 days, the fluorescence was observed after irradiation using a hand-held excitation light source (LUYOR-3280, LUYOR). The mutant sequence MYB9mTS was used as a negative control. To correctly insert MYB9TS and MYB9mTS into the plasmid, AATG and CGAA sites were added at the ends of the forward and reverse primers of the target sequences, respectively. The primers are listed in Table S1.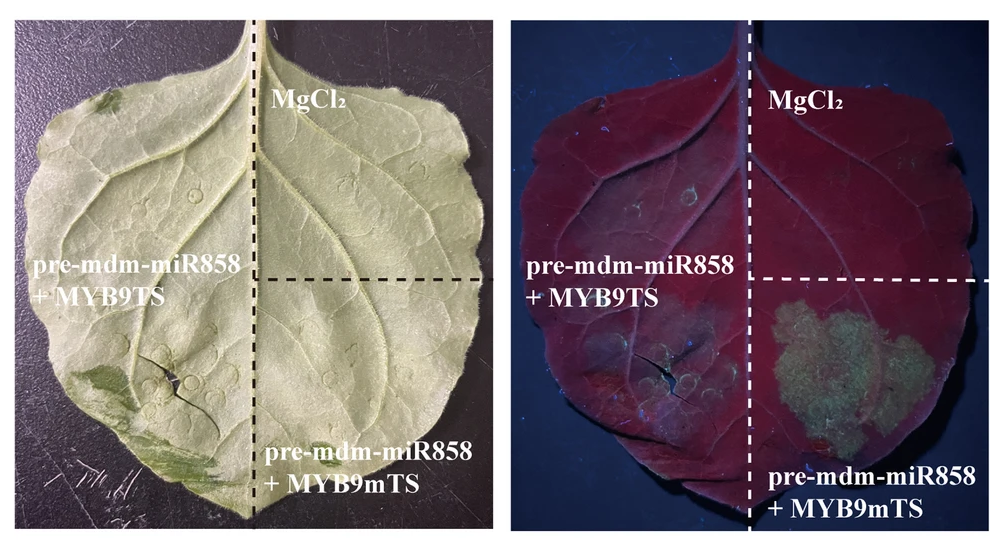 上图:用荧光手电筒观察GFP在烟草叶片上的表达
文献地址如下:
https://molhort.biomedcentral.com/articles/10.1186/s43897-023-00070-3#Ack1
上海路阳仪器有限公司专业生产各种荧光蛋白激发光源,有手电筒式、便携式、手持式、台式荧光蛋白激发光源,有单波长、双波长和三波长等多种。